MAKE YOUR FIRST DAY BACK MEMORABLE.
This package is the perfect way to start the new school year. We designed it specifically to renew skin that's been exposed to the harsh summer sun, and give your body a well-needed adjustment & pampering. Imagine walking through those doors on your first day with radiant skin, relaxed muscles, and even a fresh writing hand (yes we included a treatment just for your hands.)
This package is valid for up to one year after purchase date. Offer ends September 30, 2019
Included in this package:
Our Enzyme Face Peel will leave anybody glowing by speeding up the skin's natural exfoliation and renewal process with gentle vegetable-based enzymes.

We included a Swedish Massage because we know how active most of you are, especially in the summer! Your muscles need some pampering.

Lack of sleep from studying and homework can lead to dark circles and bags under your eyes. Our Under Eye Collagen Treatment will freshen those right up.

And finally, we included our Hand Exfoliation & Paraffin Wrap to get your hands ready for a long year of pencil holding and book carrying.
($85 value)
Most relaxing way of de-stressing muscle tension and restoring your serenity. The Swedish Massage isn't too rough, or too gentle which makes it the perfect maintenance massage.
($30 value)
Vegetable peel that allows deepest exfoliation, leaving the skin purified and soft with no irritation. Face peels also increase product absorption.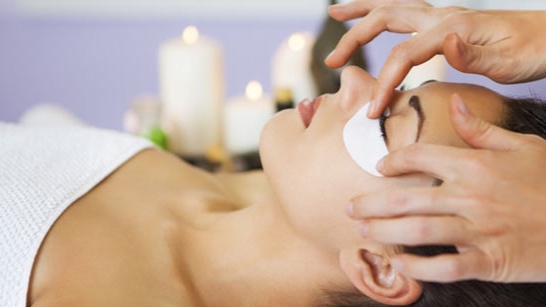 UNDER EYE COLLAGEN TREATMENT
($35 value)
The skin is properly prepped first to pinpoint problem areas under the eye. This treatment dramatically reduces the appearance of dark circles and puffy eyes.
HAND EXFOLIATION & PARAFFIN WRAP
($25 value)
We exfoiate your hands, massage them with a plant extract, and wrap them in a paraffin mixture rich in Vitamin E to loosen the joints, stimulate circulation and soften the skin.
GET $165 WORTH OF SERVICES FOR ONLY $99!